Gclub Slot, Slot Online service, which is becoming the most popular among many customers on both Thailand and abroad. Easy to play and get frequent bonuses. Gclub Slot is a Slot Online game for those who seeker's reward and general customers. The rules are easy to understand and there are a variety of games sevice for customers to play with fun. The game is divided the Game Slot form in Gclub service into Slot Zone and Slots Zone 3D.
GCLUB SLOT HALL
It is a Zone that gather the Slot Online game. Have fun with many games for you to play by in each game of Gclub Slot will have different features.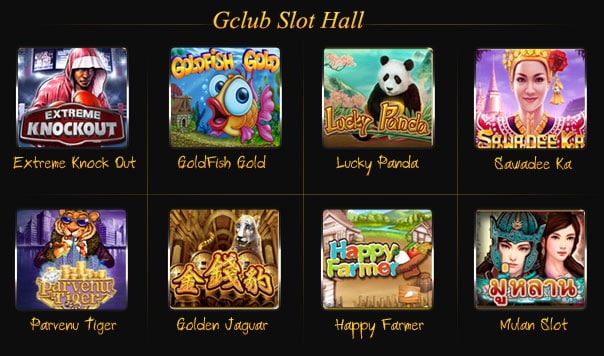 ---
Extreme Knock Out

Extreme Knock Out : Slot game boxing is a Slot Online game, fighter symbol​ image of . Free games up to 200 times.
Goldfish Gold

GoldGoldfish Gold : Goldfish Slot Game, have a Joker and Goldfish to make a high payout, even if playing in the normal category.
Lucky Panda

Lucky Panda : Panda Slot Game, when received the Free Game. If the Panda come down a full row, the game will lock the row until playing Free Game ends.
Sawadee Ka

Sawadee Ka : Slot game Sawadee Ka Gclub Slot is a Thai style game with a Joker that can replace to all the symbols.
Parvenu Tiger

Parvenu Tiger : The famous Slot Tiger, when received Free Game, the multiplier of payout will increase in every round plus 1 up until Free Game ends.
Goldden Jaguar

Goldden Jaguar : Slot Online game Leopard tiger with Free Game and Grand Prizes. Enjoy the rhythm smoothly unlimited.
gclub slot happy farmer

Happy Farmer Slot : If you received Free Game pictures for 3 pieces, so you can play Free Game. Enjoy high payout with a big Jackpot in this game.
Mulan Slot

Mulan Slot : Mulan when you received Bonus symbol for 3 pieces, You will be playing the Bonus when open it. The game is multiplied by the reward.
GCLUB SLOT 3D
A service that will keep you entertained at all times. The image system and sound make the real inspirational. In three-dimensional system (3D), win a Jackpot every day. If you are interested in playing Gclub Slot Game, Gclub Slot 3D or other online betting games with Gclub Casino & Slot Online can call our Call Center for 24 hours.