1S Casino Baccarat Card the popular online card game from the customers in the whole country. Baccarat is an online betting game where the players can bet different, have long been fascinated. 1S Casino Baccarat can be played on website immediately without download the program to install it. Anyway, with the rules of playing that are understandable and have a high chance of victory. It is a betting between the two sides, the Player and the Banker, then you choose which side will get closer to 9 points than. The purpose of playing
Baccarat online is to bet between two sides, the Player and the Banker, then you choose which side will be closer to nine points. To play baccarat, you can bet as follows:
To Play Baccarat in 1Scasino
1. Player Bet (player)
2. Banker Bet (Banker).
3. Tie Game equal bet.
4. Player Pair bet on (Player) out of pair card.
5. Banker Pair bet on (Banker) out of pair card.
6. Big bet on both sides, together are 4 cards (there are some casinos).
7. Small bet on both sides together are more than 4 cards (there are some casinos).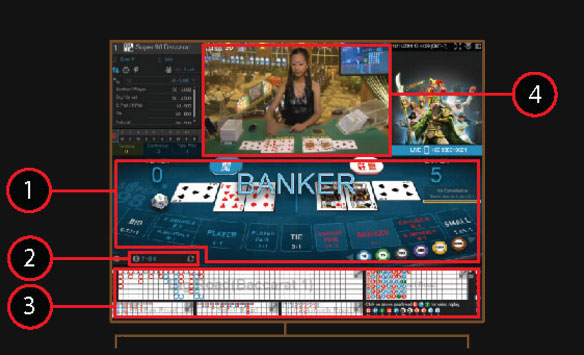 The place for betting to see the card's score Banker; Player, choose bet number
Current credit amount
The statistics of lose/win in the past games. At the start to deal the card of the first game
A Live pictures of from the real Casino 1S Casino
---
Cards dealing and Baccarat's score counting in 1S Casino.
Baccarat online played with cards. Each side will be dealt at least 2 cards, but not more than 3 cards, the first card with the third card from the box dealt to the player. And for the second card with the fourth card dealt to the Banker. If any sides wants the third card by special rules which shown below, can be asked for (Draw a card). All cards of Baccarat are dealt must face up.
---
1S Casino Baccarat online's score counting, the card which is the face card (Jack Queen King) and 10 card counts as 0 point, Ace card (A) counts as 1 point and for the other cards can be counted as the number on card. Baccarat's score in each side is the last number of all sums so that if which side have 8th and 9th cards will have 7 points (Because 8+9=17) these because card of 10 points and face cards counts as 0 point and count the last digit only. Example, card of 10 points is equal to zero. Counting is always counted from 0 to 9 (unlike playing blackjack or Macau) is not possible to count separately.
---
Baccarat 1S Casino Natural Card because of each side is expects score as close to 9 as possible when scoring 8 or 9 from the first two cards is considered to be good. This is called " Natural" if compare with Pokdeng also can be called Pok8 or Pok9 itself. For both sides must "Stay" or not add a card more by the usual rules but only one point can be beated to the Natural 8 is Natural 9.
---
To become the winner in the Baccarat Online game, the side with the most point or nearest 9 points is the winner.
For those who bet on player, 1=1
For those who bet on Banker, 1=1 but is deducted 5% commission
For those who bet on Tie, 1=8
For those who bet on player pair, 1=11
For those who bet on Banker pair, 1=11
When the Tie is occured, all bets are either banker or player (Except for pair cards) have to withdraw back. There is no loss/win in this hand.